Embarking on the journey of a bathroom renovation can take two ways; it can be made easy, and it can be difficult than you can imagine. You can only end up getting yourself stuck in a difficult renovation process if you fail to put some things in place for starting the project. There are lots of considerations to make if you don't want things to get complicated and overwhelming.
If you've ever done any home renovation project before, you'll have some idea of how the processes work. Nevertheless, your bathroom renovation project shouldn't be stressful. Engaging with us at Bathroom Craft will ensure a fully project managed Bathroom Renovation from concept to completion. It's our job to guide you through the renovation project every step of the way.
In this article, we'll show you the necessary steps to take to make your bathroom renovation project as easy as possible. You don't have to feel overwhelmed by the stress that can be associated with bathroom renovations. Once you've made the decision to renovate your bathroom, these tips would definitely help you enjoy your bathroom renovation experience making the whole process as easy as possible. Let's get started!…
Plan For Success
Before considering a bathroom renovation, the first thing to do is, plan ahead. Think of how you can achieve your desired bathroom taste without breaking the bank.
Ask yourself several questions such as, do I need a complete overhauling of my bathroom? Would I like to retain the bathroom layout or go for something bigger? Do I want to hire a contractor for the entire project or I can do some myself? All these questions would help you come up with a clear direction for your bathroom renovation. So plan for success!
Know your Bathroom Renovation Budget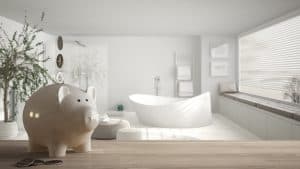 Think about the reason for renovating, access what is necessary to be done in your bathroom and create in your head a clear picture of what you want.
Creating a budget will be reasonably easy if you consider these things carefully. Once you know what you want, you'll be able to select what you think is a budget-friendly option for you.
Plan your Bathroom Design and Color Scheme
Do you want to retain your bathroom design? Or you want to go for something new, modern and refreshing? If you want something new, think of the design you want and the colour scheme you'll prefer. If you want the classic, modern or possibly contemporary design, pen that down. 
Plan Your Choice of Bathroom Products and Materials
Choosing the perfect bathroom products and materials is essential for you getting the desired end-product. If you make the right choice of materials for your new bathroom, definitely your bathroom would come out fantastic after remodelling.
Choosing the right bathroom products and materials on your own might be quite difficult for you. It's possible you're not so familiar with the quality bathroom materials. This is where your renovation company can advise best.
This is exactly one of the things offered at Bathroom Craft. If you're having challenges about choosing the right products and materials for your bathroom renovation, Bathroom Craft can guide and recommend the best for your bathroom renovation project.
Hire a Professional Bathroom Renovation Company

Hiring a professional to guide and assist you with your bathroom renovation work is just the best option. Some people do consider executing the project themselves, well, you might do it yourself but you can't beat good expertise, experience and year of practical bathroom design knowledge. You will save all the unwanted stress and headaches by investing in a professional bathroom renovation service it's that simple.
Why not save yourself time and stress by hiring a professional contractor to do your bathroom renovation. Also, companies like Bathroom Craft can even purchase bathroom materials and accessories for you if you don't mind. That's just bathroom renovation process made easy!
Go for a company that'll guide you through the entire renovation process and that'll make sure you enjoy the experience. Bathroom Craft prides itself on delivering excellence in bathroom renovations Auckland wide.
Conclusion
After making your decision to renovate your bathroom, if you can follow all the tips listed in this article, you'll definitely enjoy the best renovation experience. Your bathroom renovation process will eliminate any nasty surprises and one you can enjoy knowing that you're in solid capable hands with Bathroom Craft. It's left to you to decide which way you want to go but trust us, we have the best waiting for you.