As one of the most used rooms in the house, bathrooms should be a place of utmost comfort. Whether you're showering, getting ready for the day, or taking a well-earned break in the bathtub, nothing can ruin your moment more than a dull and uninviting bathroom. Creating an elegant and luxurious bathroom shouldn't be limited to the ultra-rich, so we've put together our top five tips for crafting your luxury modern bathroom. Which of these trends sound like the perfect fix to turn your bathroom into a mini-retreat, right in your own home?
Use luxury tiles to create ultra-unique spaces
Luxury tiles can turn a standard bathroom into a work of art, without breaking the bank. The options are endless. Whether you'd like a sophisticated mosaic or a simple natural tone, the perfect tile can bring an entirely new dimension to your luxury bathroom.
It's essential to think about your overall bathroom style and ensure the colour tones match before installing your tiles. Chat with a tile expert, and they'll help you create that WOW factor you've been looking for. And the best thing about tiles, they're easy to change. If you become bored of your original choice, you can replace the tiles and create an entirely new looking bathroom in just one day.
 Luxury bathroom vanities, why choose a luxury double vanity basin
Whether you want them to or not, vanities often end up as the focal point and most used item in bathrooms. Yet, picking out a vanity has way more to it than one may think. The function must be thought about, as well as storage, size, material, colour and placement. Choose the wrong vanity, and you may end up with a cluttered mess. However, by taking a step back and looking at your overall design and needs, choosing a vanity can be exciting.
Floating vanities have become more and more common in luxury bathrooms and are typically made out of warm materials like wood, which create an inviting atmosphere. Plus, if you have room for it, a double vanity is a must for luxury bathrooms. Double-sink styles take more space, but they're great for families or anyone that needs to share the bathroom in the morning.
Luxury showers are a must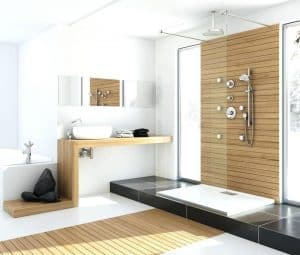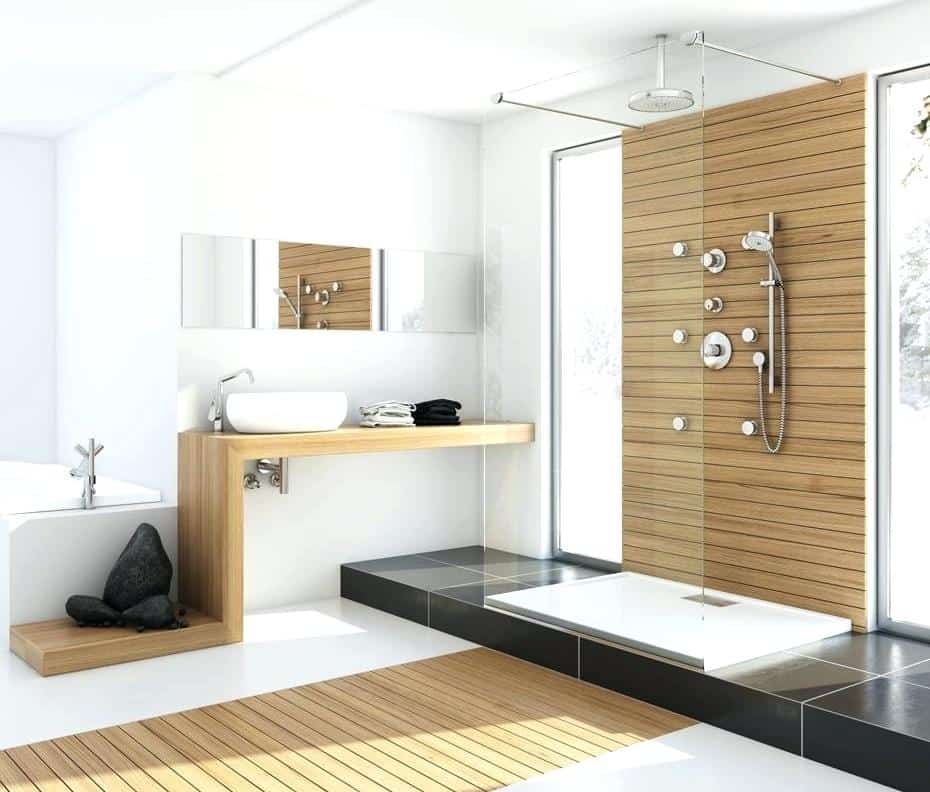 A luxury shower can take your average bathroom and transform it into a mini paradise. After all, there's hardly a better way to start your day than a hot shower or finishing your day rinsing off without a worry in the world. While there are many varieties of luxury showers, they all have beautiful aesthetics and valuable functions in common. A few of our favourite luxury shower styles include:
Rain shower:
Imagine standing under a warm rain shower, with nothing but nature and the song of birds surrounding you. By investing in a rain shower head, you can recreate this rejuvenating experience and add touches of zen to your life. Installing a rain shower head is relatively easy, but do be aware they use much more water than your average showerhead.
Curbless shower:
Say goodbye to the ugly shower tray and basis and create an elegant space with a curbless shower. It may sound counter initiative, but designed with a slight slant, you can have your shower at the same level as your bathroom floor without having to step over an ugly base. Add in beautiful tiles, and you have a safe, easy to use and elegant shower.
Oversized shower:
There's something inherently luxurious about oversized items, and showers are no exception. Many are designed with two shower heads, so you can either dance your way around the shower showcasing your best shower song or invite your partner so you can both get ready at the same time without fighting over space.
Luxury steam showers create your mini paradise
Deserving their own mention are luxury steam showers. Taking the place of your ordinary shower, these fully enclosed spaces double as a steam room and a shower. Turn on the steam, enjoy a steam bath, then rinse off after. Many luxury steam showers even have specialised lighting, music and aromas to recreate a luxury spa experience in your own home.
What to look for when choosing your luxury steam shower:
Steam building speed: there's nothing worse than sitting in a cold bathroom waiting for your shower to steam up. Quality models can take under a minute to create the perfect amount of steam, whereas you may be waiting up to 10 minutes for cheaper models.
Auto-clean: calcium deposits build up on the heating element and without cleaning can cause damage and a reduction in efficiency for your steam shower. An auto-clean system will increase the longevity of your shower and save you time.
Remote controls: once you're relaxed, the last thing you want is to have to get up and adjust the steam temperature. Higher-end steam showers have remote controls, and we promise they're well worth it.
High end bathroom fixtures add the perfect touches
Often forgotten about but vastly important is the bathroom's lighting. Too much light, and you can feel drowned out by brightness. On the other hand, not enough light and you'll be left frustrated. Many modern luxury bathrooms feature a spotlight in the middle of the room to ensure the mirror is fully lit, yet the corners have nice modest lighting.
Also popular in high-end bathroom fixtures are illuminated mirrors. This light is perfect for the early morning and evening hours and allows you to get ready without bright lights. Also, look for unique standing lamps that will bring character to your bathroom and can be adjusted to give the perfect light just where you need it.
 Ready to turn your bathroom into a luxury modern bathroom?
Hopefully, the list above inspired you to start thinking about how you'll add hints of luxury to your bathroom. If you're ready to chat with a professional, get in touch with Bathroom Craft today, and they'll walk you through all the steps of creating your dream luxury modern bathroom.