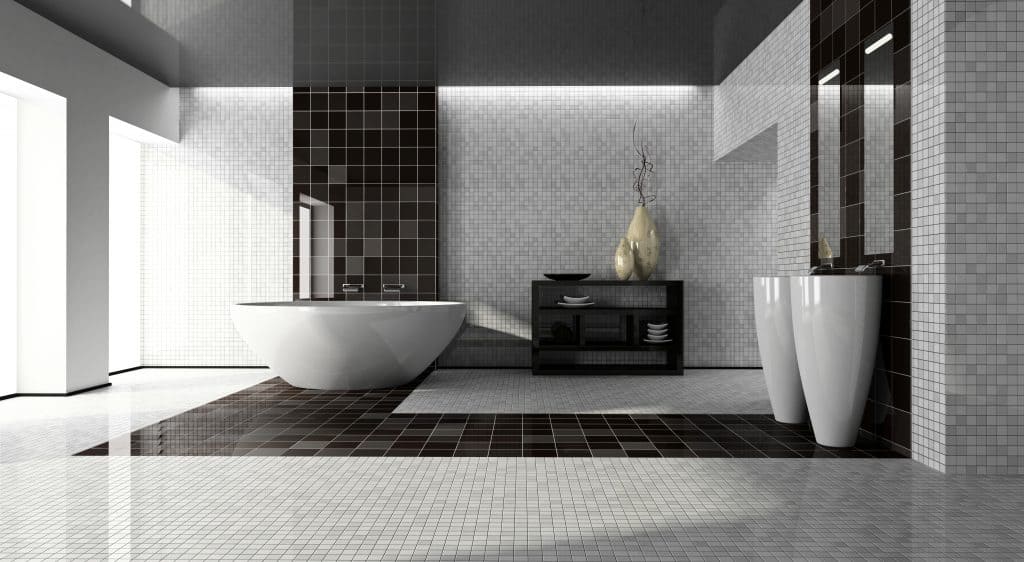 Tiled Bathrooms are becoming increasingly popular in Bathroom Design. They look stunning and add style to your Bathroom Renovation.
Have You Made Decision To Tile Your Bathroom? So What Next?
Have you made the decision to tiling your bathroom in Auckland? Do you wish to go for beautiful walls and floor tiles that'll showcase luxury and leave your bathroom with a gorgeous appearance? You'll certainly need the expertise  and experience of a professional bathroom renovation company like Bathroom Craft to bring this to reality.
Once you've made the decision to renovate your bathroom, there are lot of things to put into consideration to help you achieve a successful project. To know more about these things, check our article on bathroom renovation made easy.
Generally, ceramic tiles are the most popular tiles often used for bathroom walls and floor tiling. They're widely accepted among renovators and homeowners because of their durability and moisture resistance. Ceramic tiles like most other types of tiles are widely available in a diverse range of styles and colours. They are priced from $50 per square metre which is relatively cheap. As such, no matter the type of tiles you consider, the most important thing is, they are properly installed and grouted, and that's why you need a professional team of bathroom renovators like Bathroom Craft.
Bathroom Craft promises to offer you an unbeatable experience of bathroom tiling in Auckland. We'll guide you on the best tiles to choose for your bathroom and we'll handle the complete installation for you from start to finish.
How to Choose Your Bathroom Tiles

The tiles you select will definitely add impact and class on the appearance of your bathroom just as much as colour and lighting will. As such, you have to select the right tiles that'll showcase your personal style and still blend with your choice of design.
Do you want to choose the best tiles for your brand new bathroom design or for remodeling of your old bathroom? How then can you pick the best tiles that'll leave your bathroom with that gorgeous appearance? We'll help guide you on the selection process and discuss the pros and cons of various tiles. From timeless classics to elegant we are here to help. Here are few tips to guide you in the selection of wall and floor tiles for your bathroom.
Choose a Tile that'll Complement Your Bathroom Design
If you want to achieve a gorgeous looking bathroom, the tiles to select must complement the design and colour of your bathroom. There are numerous types of bathroom tiles that come in a diverse range of colours and styles. If you select a beautiful tile that still doesn't match your bathroom style, it'll quickly look its appeal to you. As such, you must consider a tile that matches your bathroom in design and style.
Be Mindful of Durability and Longevity when Selecting Your Tiles
Also, you should put the durability and longevity of a tile into consideration before selecting. Actually, it comes down to your preference. If you're after longevity, you definitely have to stick to something more durable that comes with a neutral colour that won't fade off easily.
If you're after luxury and appearance, you can go for stylish, modern tiles that'll perfectly showcase luxury but with relatively less durability.
Consider the Texture of the Tiles
Tiles often come in varieties of texture which is due to the fact that they're manufactured from different materials. Some tiles are very smooth while some come with engravings and etchings.
Both smooth and rough tiles can leave your bathroom with that super-fly appearance. It all depends on what you want, and the advice from your renovator.
Size
When designing a bathroom, the size of the tile chosen can have as much effect on the look of your project as the colour and texture will. We often have large and small size bathroom tiles. Larger tiles are known to produce more accurate bathroom tiling with fewer grout lines. It gives a more streamlined look to a bathroom.
The selection now comes down to your personal preference but over time, it has been identified that larger tiles are the easiest way to modernise the look of your bathroom. Larger tiles also provide the illusion of a larger floor area in a smaller bathroom as there are fewer lines between tiles. Laying the tiles diagonally also helps with the illusion. 
How Tiling or Waterproofing Process Works
Before you can tile or waterproof your bathroom floor, slate underlay are needed to be installed, which is often a cement-based product. Thereafter, a waterproof membrane can be applied. Waterproofing is a specialist trade, your bathroom depends on the waterproofing being done right, and that's why you need professional support from our specialists in BathroomCraft to give you a perfect job.
Bathroom renovation process might seem a bit tedious to you, but with a company like Bathroom Craft, you'll certainly enjoy every bit of the process. We're just a call away. Get in touch with us to request a quote.