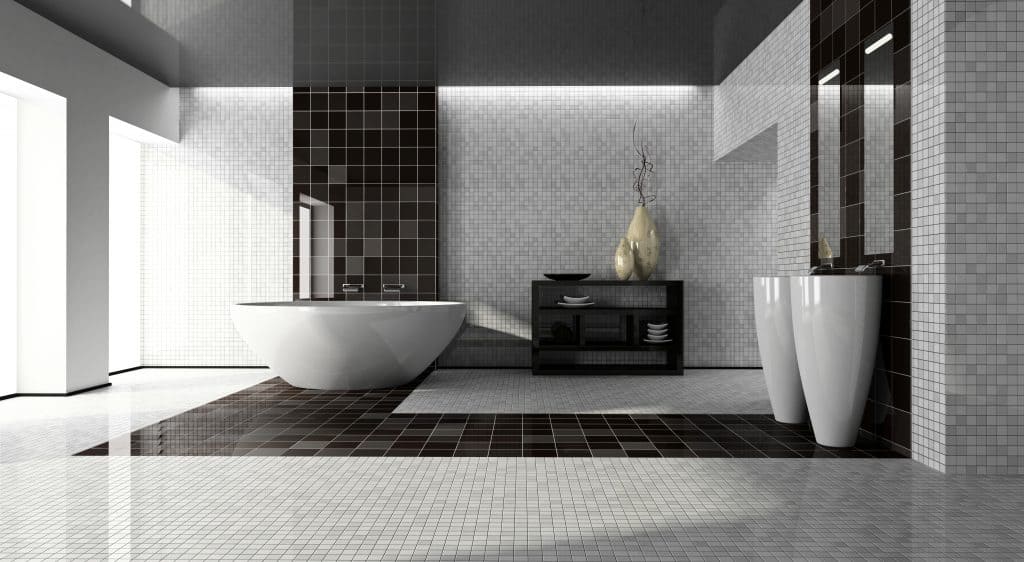 A tiled bathroom can be the last word in luxury, and lifts any bathroom out of the ordinary. 
So you want to tile your bathroom…
It is almost essential in the case of a tiled bathroom to employ the expertise of a professional bathroom renovation company like Bathroom Craft to achieve a satisfying reality.
The Bathroom Tiles
Ceramic tiles are the most popular for walls and floors for their durability and moisture resistance. They are priced from $50 per square metre and, to ensure this investment is spent wisely and that you achieve the look you want, it is vital to ensure they are professionally installed and grouted.
Bathroom Craft can guide you through the process of choosing the best tiles for your walls and floors, and we'll handle the complete installation using only the most skilled trades people, from start to finish.
How to Choose Your Bathroom Tiles

The tiles you select will definitely add impact and class on the appearance of your bathroom just as much as colour and lighting will. As such, you have to select the right tiles that'll showcase your personal style and still blend with your choice of design.
Do you want to choose the best tiles for your brand new bathroom design or for remodeling of your old bathroom? How then can you pick the best tiles that'll leave your bathroom with that gorgeous appearance?
We'll help guide you on the selection process and discuss the pros and cons of various tiles. From timeless classics to elegant we are here to help. Here are few tips to guide you in the selection of wall and floor tiles for your bathroom.
Choosing a style of Tile that'll Complement Your Bathroom Design

If you want to achieve a gorgeous looking bathroom, the tiles to select must complement the design and colour of your bathroom.
This can be daunting at first as the range of style, shapes and sizes – and the different effects that can be achieved with each – can be bewildering.
Bathroom Craft can help you through the selection process to help you create a coherent design style.
Consider the Texture of the Tiles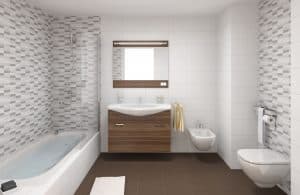 Tiles often come in varieties of texture which is due to the fact that they're manufactured from different materials. Some tiles are very smooth while some come with engravings and etchings.
Both smooth and rough tiles can leave your bathroom with that super-fly appearance. It all depends on what you want, and the advice from your renovator.
Texture is as important as colour and shape, and you definitely want to make sure, for example,  that you are comfortable with the level of grip you will have underfoot.
Size
When designing a bathroom, the size of the tile chosen can have as much effect on the look of your project as the colour and texture will. Larger tiles are known to produce more accurate bathroom tiling with fewer grout lines. It gives a more streamlined look to a bathroom.
The size of the tile, and the grid pattern the grout lines create, can have a big impact on the impression of the size of the room. Bathroom Craft has expertise in using tiles creatively to make sure small rooms maximise the impression of space.
Larger tiles are the easiest way to modernise the look of your bathroom too. Larger tiles also provide the illusion of a larger floor area in a smaller bathroom as there are fewer lines between tiles. Laying the tiles diagonally also helps with the illusion.
Waterproofing 
Tiles don't guarantee a waterproof bathroom. Grout is porous. Waterproofing is essential before installing tiles. Waterproofing is a specialist trade and Bathroom Craft has the expertise to ensure this fundamental task is done correctly and that's why you need professional support from our specialists at Bathroom Craft to give you a perfect job.