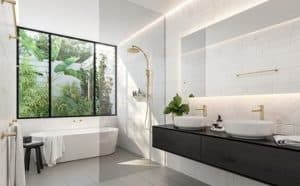 Doing the right thing in its right season and time is more beautiful than anything else. Therefore, the sage Solomon said, "We have a time and a season for everything under the sun." He also added, "He makes everything beautiful in its time."
Yes, we are all expecting summer to spring forth with its unique beauty. But what are you doing to prepare your bathroom to reflect summer's beauty?
Small Bathroom Renovations
What small bathroom ideas do you have for your summer decoration and design?
Before answering the above questions, you should know that summer brings a new sense of freshness and lightness. It wipes away the dullness of winter and the haziness of spring. Therefore, decorate your small bathroom with these facts in mind. Also, remember that a small bathroom always feels congested. When you couple it with summer's hot weather summer, it can be challenging operating in it. So, I welcome you to be my guest as I walk you through the ten commandments of decorating your small bathroom for this hot season.
Small Bathroom Designs – Let There Be Life!
I hinted initially that summer brings a new sense of life and freshness. It marks a full recovery from winter's freezing effects on life. Therefore, we start our journey on a living note. First, bring life into your bathroom. This is the best season to bring in different types of plants and flowers. As long as you create a conducive environment in your bathroom to allow in enough moisture and light, your plants will thrive. You can hang some of them on the bathroom's ceiling/walls too.
Remember, plants purify your bathroom's moist air due to increased temperatures. Moreover, they will add to your bathroom's aesthetic value because they are good for feasting your eyes on. Lastly, these plants will add fresh scent and fragrance to your bathroom.
Magnify Your Small Bathroom
Yes, summer is the best time to magnify things and live large. Therefore, you can't afford to leave your bathroom out of the equation. You can make your small bathroom look larger than it really is. By going for affordable mirrors, you can magnify and make it look more beautiful than what it looked like during the cold months.
Decongest Your Bathroom
Congestion is a common challenge for all small bathrooms. So, you have to look for smart and affordable ways of decongesting it. To do this, you have to remove all your vanity items from the countertop. Consequently, you will remain with the basics only and store the other items below your sink and cabinets. This way, you will free enough space to introduce a fresh aura of beauty and attractiveness to your bathroom this summer.
Replace the Towels and Bath Mat!
Remember, summer is here and so is beauty. Therefore, look at these two essential bathroom items to establish if they will fit in your new beautification equation. If they are worn out and can't serve you another season, just discard them. Include new towels and baths mats so old ones don't dent the new facelift of beauty you are giving your bathroom this summer. You can choose to go with pure whites or a mix of bright colours.
Deep Clean
You also need to consider deep cleaning when decorating and designing your bathroom this summer. I know this task is tiresome and some of us may be tempted to skip it. However, it's still core to your quest for summer beauty and design. You have to wash down your walls and floors. Otherwise, trying to do the other things without deep cleaning would be like pouring new wine in an old and dirty wineskin. Would you drink it? Definitely, you wouldn't! So, thorough cleaning is compulsory if you want to revamp your bathroom's summer appearance.
Use Smaller Organisers
You can also elevate your bathroom's aesthetic appeal and value by using smaller organisers. One way of doing so is utilising fewer baskets and trays to organise your bathroom supplies and toiletries. You can use hanging shelves to store the baskets.
Bring in the Art
This summer, you also need to embellish your bathroom by bringing in the art. You can add this artistic flavor to your bathroom by installing uniquely framed artwork. Also, you can either buy it or create one if you have artistic hands. Either way, you only need to ensure it adds a sense of beauty and décor to your bathroom.
Stick to the Fundamentals
During your summer decorations, you have to stick to the fundamentals. The reason is that you are racing against limited space. Therefore, balance things so that you don't end up undoing what you intended to achieve. Remember, beauty doesn't need to be complex, no. In fact, you can achieve much with simplicity.
King Size Art Print
Decorating and redesigning your bathroom for summer shouldn't have to be complex. You can introduce a bold piece of artwork that creates a focal point for your room. If you place it strategically at your bathroom's back wall, it can distract the smallness of the space.
Let There Be White
Lastly, let there be white! Why? Because this pure colour symbolizes purity and clarity, which are twin components your limited bathroom space requires to look bigger. Remember, white also reflects heat away, creating a natural cooling effect you need badly this summer. 
Act Now
There you go with the ten commandments of decorating your small bathroom this summer. We believe your eyes are now open to enriching and enlightening secrets that will help you to elevate your bathroom aesthetically. The ball is in your court. We welcome you to talk to us about all your bathroom design and renovation needs this coming summer.